www.ChuckLohr.com

This is a non-commercial web site. Advertising is not accepted. I am not being paid for any mention or promotion.
To translate this page from English select a language
#13 Camera
The #13 is one version of the 808 car keys micro camera.
1080p claim seems fake. Image sensor is 1280x800.
The black plastic case is slightly different than other 808 cameras.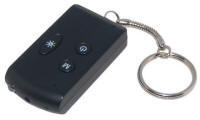 111025C13Watch720p
111025 - Watch like #13, HD but Fake 1080p Claim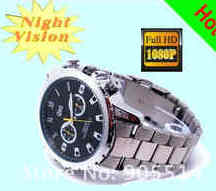 Wayne in Singapore bought a wristwatch video camera from aliexpress. The aliexpress listing claims the wristwatch uses an HD9712 sensor. The watch produces AVI MJPG 1920x1080 video much like the 808 #13, but the FPS is 30.

The 1080p claim is probably fake because the image sensor is probably an OmniVision OV9712 which is 1280x800. The AVI is probably upscaled to 1920x1080. The HD claim seems to be real.

Wayne sent me a sample video (16 MB, 5 seconds). In the vault in the C13 folder:
111024 Wayne Watch like C13.AVI

The sample video AVI data rate is 3.4 MBps so a class 4 or faster micro SD card is required. The video image frame quality is sharp and overall look very good, however, the missing frame rate is terrible at more than 50%.

OV9712 product specification - http://www.ovt.com/products/sensor.php?id=29
110627 - Wrist Watch Camera like the #13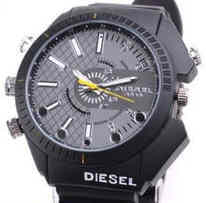 Stefan in Germany sent me an AVI sample file from this wrist watch camera. Sold on eBay

160610628672

.

The properties of the AVI video file are almost the same as the #13. The FPS is 30, not 15, and the file data rate is very high at 25.5 Mbps. This requires a fast flash card. This sample video missing frame rate is 52%.

I don't review watch cameras.
C13VideoSample
110620 - #13 More Information
110626 - Maxim sent me a second sample AVI video file. The missing frame rate is terrible at 67%.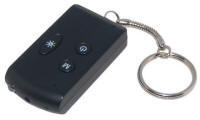 Maxim contacted me about an eBay seller (vian-collection) of the #13 camera. The seller provided a sample video, and a video frame capture.

Sellers eBay ad - http://cgi.ebay.com/220793179455#ht_4799wt_905.

eBay seller vian-collection created this sample video and video frame grab.

Sample 29 second video. 64 MB. http://mysx4.ru/files/video/DLD_0001.AVI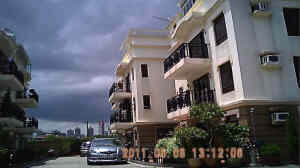 #13 Video frame capture, thumbnail. 3 MB. Click for full size.


110620 - Here are my (Chuck Lohr) comments about this video sample:

SUMMARY: This is a very interesting micro camera. Except for 15 FPS the video is very good and has no missing frames (in this first sample). In the second sample video the missing frame rate is terrible (67%). The video looks even better if the brightness is increased and the contrast is reduced. The native resolution (image sensor resolution) seems to be at least 1280x720 and might really be 1920x1080. I will be labeling this the #13 camera. It's not in an 808 case but is similar in size.

AVI File: about 133 MB per minute. Plays with Windows Media Player, VLC and KMplayer. VirtualDub 1.9.9 can not play or edit the AVI because the dimensions are not an increment of 16 (1920x1080). Imports into my video editor OK (TMPGENC 4.0 XPress). Image Sensor: based on the analysis of a video frame the image sensor is much larger than 640x480, seems to larger than 1280x720 so it might really be 1920x1080.

VIDEO: AVI MJPEG 1920x1080, 15.067 FPS, no missing frames in the first sample video. In outdoor light with camera movement each frame is very sharp with no smear. This would indicate that the electronic shutter is probably much faster than 1/15 second. So the sensor is probably not the bottleneck. The camera is probably throttled down to 15 FPS because at a higher FPS either the processor (CPU horsepower) or the flash card would overflow resulting in missed frames.

AUDIO: PCM, 8000 Hz, 16 bit, 128 Kbps. The audio fidelity is fair and there are no strange artifacts.

NOTE: In the sample AVI video, the contrast is very high and the brightness is clipped at the white end. However, I re-encoded the sample with lower contrast and MP4 AVC level 4, 1920x1080, 5400 Kbps, 15 FPS. It looks much better, and the file size is about 70% smaller. The 64GB claim for maximum memory card is probably not correct since SDHC maximum is 32GB.