www.ChuckLohr.com

This is a non-commercial web site. Advertising is not accepted. I am not being paid for any mention or promotion.
To translate this page from English select a language
#21 Camera
The #21 is one version of the 808 car keys micro camera.
It takes 640x480 MJPG video, has an Anyka
AK1120 processor and a high missing frame rate.
121215 -

Another #21

Jo from northern Germany sent me these photos of his 808 #21. The circuit board is labeled "DR_909_REV-1.0".

The LiPo battery module is labeled HBK 032030 140mAh LJ11 MY


808 #21 Battery and Processor side

808 #21 Button side
121106 - #21
Ken reported this version of the 808, the #21. He bought his #21 from Amazon YorkTek. It has been a long time since a new 808 version has used an Anyka processor, so this might be a new camera but old stock.

A sample video and photo taken by the #21 are in the C21 folder of the vault.

Circuits -
AK1120Q06403 FT01E12. Processor Anyka.
BX 120511 G25Q80-12G TAIWAN. 8 pin chip, Bao Xin, probably a 1MB serial SPI flash memory chip that holds firmware.

AVI - 30.000 FPS. About 46MB per minute total data rate. The AVI is compliant and editable.
Video - AVI MJPG. 640x480. About 32% missing frames. Date time stamp lower right, black


Audio - PCM Mono, 128Kbps (8000Hz, 16 bit)

Photos - JPG. 1280x960. date time stamp lower right, black



Setting the date time - Filename is time.txt and file format is 2012-11-07 17:21:00 Note the dashes, not slashes. It matters.
(1) Download time.txt. Copy it to the flash card root. Power off. Power on.
Take a photo and verify the date time stamp displays like 2012/11/07 17:21:00.
(2) Then edit the time.txt file and repeat step 1. If it doesn't work, your editor corrupted the file.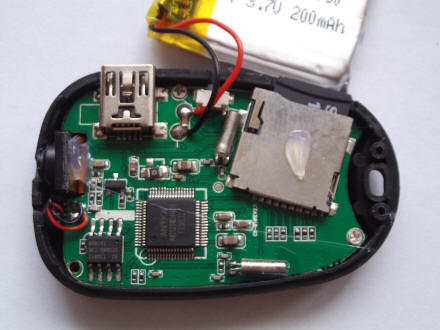 808 #21 - Circuit board seems to be labeled CX-BTREV2.1