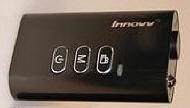 www.Innovv.com

The

Innovv

C1 Available from the producer of the 808 #11, #18, and #26. Available about mid November 2013.

Features include: G-sensor for record-if-motion, standby-if-parked and automatic video 180° flip. Video MOV H.264 16:9 1080p 30fps and 720p 60fps. Video and audio output via optional cable. PAL & NTSC. Lens 6G glass 2.2mm. Horizontal field of view 100°. Lens

M12x0.5, 6 element glass lens

, F/ON=2.0, f=2.3mm, diagonal 150°, horizontal 100°, vertical angle 90°. Continuous recording by file segment overwrite. Uses Micro SD Card up to 32GB. 700mA LiPo battery. Record time 80 min. Charge time 60min. Night LED. Webcam mode. Record-on-USB-power mode. Date time stamp enable disable. Auto power off. Flicker Frequency 50Hz/60Hz. Power input at USB connector 5V. Processor Novatek NT96650. Image Sensor Aptina AR0330 (3MP). 62x39x18mm.

32

44 grams.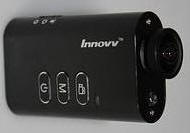 The Innovv C2 has a different lens and the producer says the lens has "better video quality". The lens extends out farther. Horizontal field of view 110°.

Lens M12x0.5, 6 element glass lens

, F/ON=1.8, f=2.8mm, diagonal 160°, horizontal 110°, vertical angle 94°.

Comment from the Innovv producer: The initial lens for C1, it has the good video quality, wide angle of view like now the lens for C2, but it is under top plate, a bit easy to get dark on corners on mass production, the change was needed, so we find this bigger lens for C2 which has almost the same angle of the initial lens for C1 but better video quality. And after testing other 12 lens, the end we select the current C1 new lens for its better performance but no a big difference on view of angle.